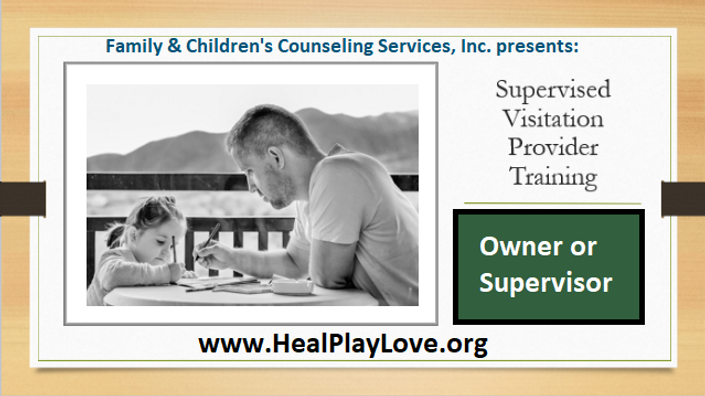 Owner Version - Professional Supervised Visitation Services Training
Helping Families One Visit at a Time
Watch Promo
Are you looking to enter into the psychology or human services field? Would you like to expand your range of services in your current occupation? Are you searching for that just-right second career? Supervised Visitation Monitors are in demand!
What You Get
The 'Must-Have' Info & Training
You will learn all about the role and responsibilities of a Provider, record keeping procedures, screening clients, monitoring and documenting visits, and dealing with issues that arise. Plus, you will learn about the family issues involved in the Supervised Visitation field, including substance abuse, child sexual abuse, and domestic violence.
That's not all! You will also learn the behind-the-scenes 'tricks of the trade' from an experienced Supervised Visitation Provider, Melinda Haynes. So much from this profession is learned from experience. Get a jump start in your career from learning about difficult cases, speaking with attorneys, handling awkward moments during visits, managing safety issues, terminating non-compliant families, and more.
Policies & Procedures
Example Policies and Procedures to help you formulate your business manual. Topics covered include Supervised Visitation Procedures, Personal and Community Safety, Handling Holds and Terminations, Abduction and more!
Documents to Start Your Business
You will receive customizable documentation to get your Professional Supervised Visitation Monitor business up and running. Documents like...
- a handy Checklist to make sure you have collected the necessary information to open a new case
- the Interview (some call it an Intake) to help you correctly assess the case and determine whether or not you will accept the family for services
- the Agreement, the business contract (legal and monetary side of providing these services)
- Guidelines, the black-and-white rules related to visitation
- Tips for Having a Successful Visit - a handout to help both Visiting and Custodial Parents
- Helping Children Prepare- tip for the Custodial Parent to help their Children prepare for a visit

- the Neutrality notice - clearly informs Parents of the Provider's role as a neutral third party, and spells out the consequences for violating the Provider's neutral position
- a Concern (Grievance) form- a form for Parents to complete when they have a concern about the visits and/or other Parent so that no discussions need to happen in front of Children
A Certificate of Completion
Brag about your accomplishment and credentials to everyone! You will be able to add your Certificate to your website, resume and LinkedIn. You can attach your certificate in electronic form in emails to inquiring potential customers. Or, you can submit a copy of your certificate with applications for court or county contracts, if you so desire. You may also want to print it for framing and display.
The Ability to Re-Watch & Re-Learn
It's difficult to retain so much information in a one-time through training class. With the FCCS online training, you will have the opportunity to return to the course many times. A great learning technique for a new Provider is to learn, do, re-learn, and do again. This helps to not only retain the information, but to gain a deeper insight and understanding of the material as it is applied to real supervised visitation situations.
The Option to Train Employees
Be ready when your business booms! We have an employee-specific training program to help get your new hires up and running in the role of Supervised Visitation Monitor. Your employees will learn the ins and outs of being a monitor- without the business aspect. Even the homework and quizzes focus back to working for you, the boss!
The Option to Add On Personalized One-on-One Coaching
Nervous? Need more guidance? No worries! We have an add-on option for personalized phone coaching sessions with the Author and Instructor of the course (read her bio below!).
Your Instructor
Your course trainer, Melinda Haynes, MA, LMFT, is an experienced Provider who was called as an Expert Witness in Supervised Visitation for trial. She is a licensed marriage and family therapist in CA (lic 102308) and the Director and Clinical Supervisor at Family & Children's Services, Inc. in Chico, CA. Her background in counseling / therapy helps her teach from a 'healing arts' perspective so you will have the ability to meet your clients in a helping (rather than strictly legal) capacity. Join her on a new and exciting journey on becoming a professional or nonprofessional provider!
Are There Prerequisites to Become a Provider of Supervised Visitation Services?
This varies by State and sometimes by County. Some state or local ordinances have age, CPR/First Aid and/or background clearance requirements. Additionally, each local Court is allowed to regulate how Supervised Visitation services are delivered. Please review the local requirements for your State and County to find out if you meet the minimum prerequisites to become a Supervised Visitation professional in your area.
Will My Local Court Accept This Course As Proper Training?
Our feedback has been extremely positive. We have learned that the material in our Supervised Visitation Provider training course is considered to be the most complete, thorough and helpful for Providers and Owners of Supervised Visitation agencies.
In addition, the author and instructor of this course has a positive reputation for actually providing these services in her local Court's jurisdiction.
If you are concerned that this Supervised Visitation Training Certificate will not be sufficient for your local Court, please contact your local Family Law Mediator(s), Custody Evaluator(s), Court Clerk, Judges' secretaries, family law Attorneys and/or other contact source to discuss the merits of this training course. You can copy the link to this page for their reference.
These individuals may also contact the Author and Instructor, Melinda Haynes, MA, LMFT, via email at [email protected]. Please keep in mind that Melinda is currently an active Director & Clinical Supervisor, so she may not be able to get back to you immediately. She makes her best effort to return calls and emails within 24 hours.

Does This Course Meet the CA Standard 5.20 Requirement?
Yes! This very thorough course provides training in all areas of California Supervised Visitation law for Providers. If you will be providing Supervised Visitation services in California, you can find the laws regulating the profession here: http://www.courts.ca.gov/cms/rules/index.cfm?title=standards&linkid=standard5_20
Is There a Need for Supervised Visitation Professionals?
The field of Supervised Visitation is growing. Many families struggle with substance use, domestic violence, parenting, and/ or mental health concerns. In these cases, one or both Parents may be Ordered to Supervised Visitation.
Oftentimes, Parents will initially recruit a friend or family member to supervised the visits. This arrangement is usually riddled with problems related to relationship strain, biased reporting and monitors who do not understand how to properly document a visit. Most times, the Parents and/or the Judge will decide that casual (called "nonprofessional") supervision does not work. That is when families begin their search for a Professional Provider of Supervised Visitation Services.
Try to find a Supervised Visitation Monitor in your area. Do a Google search or contact some family law attorneys in your area. If your city or county is saturated with Providers, don't sign up for this course. Put your energy into another career. But, if you find there is a need, you might find a great new business or side gig for yourself.

In addition to family law cases, Supervised Visitation Providers are often needed in the foster care system. Many Counties provide contracts to Provider agencies that allow Parents access to their children who have been taken into custody.
Can I Start My Business From Home?
Yes! Many Providers offer community-based Supervised Visitation services. They provide visits in the community and do their paperwork and phone calls at home. This reduces start-up expenses and monthly overhead. Providers offer services at local parks, libraries, restaurants, arcades and other family-related locations.
The caveat is that not all cases are appropriate for such venues. Each case is different. In high-risk cases, the Court Order will specify the level of security needed. For example, a Judge may order that a Parent only visit in a facility where an armed guard is available for intervention, if necessary. Obviously, those types of cases cannot be taken by a Provider who does not offer more secure, office or facility-based services.
Most Supervised Visitation Orders are not of the the extreme, high-risk variety. Most cases do allow for community visits.
Will Supervised Visitation Services Blend with My Current Business?
Many people have started successful full-time business as a Provider. Some chose to add the service on to something they are already doing. Therapists, Social Workers, Life Coaches, Legal Document Assistants, Day Care Providers, Bouncers, and Security Professionals are a few that come to mind.
Will Supervised Visitation Services Work as a Second Career After Retirement?
Yes! Some second-career professionals who have entered into the Supervised Visitation field include Retired Police Officers, Teachers and Nurses. Many people who have retired from the fields mentioned above (in the blending current occupations heading) have also found success in making Supervised Visitation their second career.
Do You Offer Training for Employees of My Supervised Visitation Company?
We are currently developing a training course that is designed specifically for Supervised Visitation employees. This course will have all of the Supervised Visitation Provider training without the Business Owner details. Course release date is June 1, 2019, Check the school's main page for updates!
Your Instructor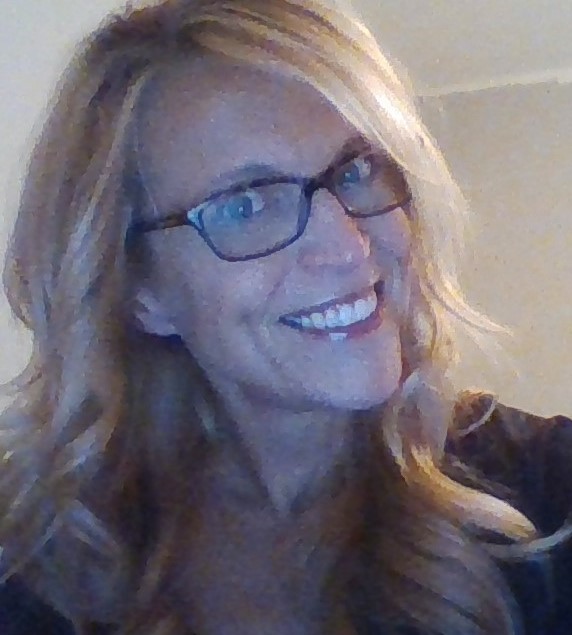 Melinda Haynes, MA, LMFT is a licensed marriage and family therapist, Director and Clinical Supervisor for Family & Children's Counseling Services, Inc. in Northern California. She began her career in the helping profession as an entry-level support counselor and has been working with families in transition since the 1990s.
During her career, Melinda continued her education and eventually obtained a bachelor's degree in Sociology and a master's degree in Psychology. Melinda has been licensed and owned private practices in Oklahoma and California.
Melinda has been called as an Expert Witness in a custody trial involving supervised visitation services, and is the author of the Supervised Visitation Provider training course. She is looking forward to assisting you in your new career as a Provider of Supervised Visitation Services.
Melinda is licensed in three states: CA 10238 | OK 1153 | NC 2143
Course Curriculum
Section I - The Role of the Provider, Part One
Available in days
days after you enroll
Section II- Role of the Provider, Part Two
Available in days
days after you enroll
Section III- The Josh Powell Case
Available in days
days after you enroll
Frequently Asked Questions
When does the course start and finish?
The course starts when you register and ends in two weeks- or longer, if you choose to go at a slower pace. Chapters / videos are released in a staggered fashion so you can absorb the information and do your practice assignments.
How long do I have access to the course?
The course will be available to you for six months so you can watch and re-watch as you get up and running in your new career.
What if I am unhappy with the course?
If you are unsatisfied with your purchase, contact us in the first 7 days and we will give you a pro-rated refund, according to how much of the course you have accessed. Before deciding to cancel, please contact us so we can try to resolve your concerns.
Intellectual Property / License and Use Agreement
The material herein is intellectual property of Family & Children's Counseling Services, Inc. (FCCS). Use of the material is allowed by persons purchasing the course. The material(s) may not be sold, re-sold. leased or given to another without the express written consent of FCCS Students who purchase the course will receive access to material for download. These documents shall not be copied and/or distributed for any other reason than for engaging in their own Supervised Visitation business.