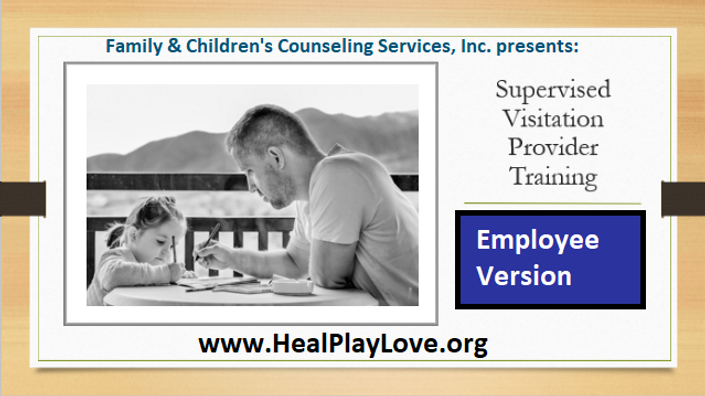 Employee Version - Professional Provider of Supervised Visitation Services Training
Helping Families One Visit at a Time
Watch Promo
Are you looking to get hired as a Supervised Visitation Monitor with a local family services agency? Are you a Director or Training Manager who needs a thorough method of training new Supervised Visitation Providers? Family & Children's Counseling Services, Inc. has created this course for you!
What You Get
The Necessary Info & Training
Students will learn all about the role and responsibilities of a Provider, including monitoring and documenting visits, and dealing with issues that arise (including substance abuse, child sexual abuse, and domestic violence).
This training is geared toward employees of private practices, agencies and other businesses who provide Supervised Visitation services.
Chapter Assignments & Role Play Ideas
Students are offered assignments or tasks to complete with their Supervisor. Students who are taking the course in preparation for a career position (meaning, they don't yet have a Supervisor) can role play with a friend or family member.
A Certificate of Completion
You or your employees can brag about their accomplishment and credentials to everyone! Students who successfully complete the course will be able to add the Certificate to the agency's website, their resume and/or LinkedIn. You can attach the certificate in electronic form in emails to inquiring potential customers. You may also want to print it for framing and display.
The Ability to Re-Watch & Re-Learn
It's difficult to retain so much information in one-time through. Students have the opportunity to return to the course many times to review the information. A great learning technique for a new Monitor is to learn, do, re-learn, and do again. This helps the student not only retain the information, but gain a deeper insight and understanding of the material as it is applied to real and role-played situations.
Your Instructor
Your course author and trainer, Melinda Haynes, MA, LMFT, is an experienced Provider who was called as an Expert Witness in Supervised Visitation for trial. She is a licensed marriage and family therapist in CA (lic 102308) and the Director and Clinical Supervisor at Family & Children's Services, Inc. in Chico, CA. Her background in counseling / therapy helps her teach from a 'healing arts' perspective so you will have the ability to meet your clients in a helping (rather than strictly legal) capacity. Join her on a new and exciting journey!
Are There Prerequisites?
This varies by State and sometimes by County. Some state or local ordinances have age, CPR/First Aid and/or background clearance requirements. Additionally, each local Court is allowed to regulate how Supervised Visitation services are delivered. Please check with your employer or Supervisor, and/ or review the local requirements for your State and County to find out if you meet the minimum prerequisites to become a Supervised Visitation professional in your area.
Does This Course Meet the CA Standard 5.20 Requirement?
Yes! This very thorough course provides training in all areas of California Supervised Visitation law for Providers. If you will be providing Supervised Visitation services in California, you can find the laws regulating the profession here: http://www.courts.ca.gov/cms/rules/index.cfm?title=standards&linkid=standard5_20
Your Instructor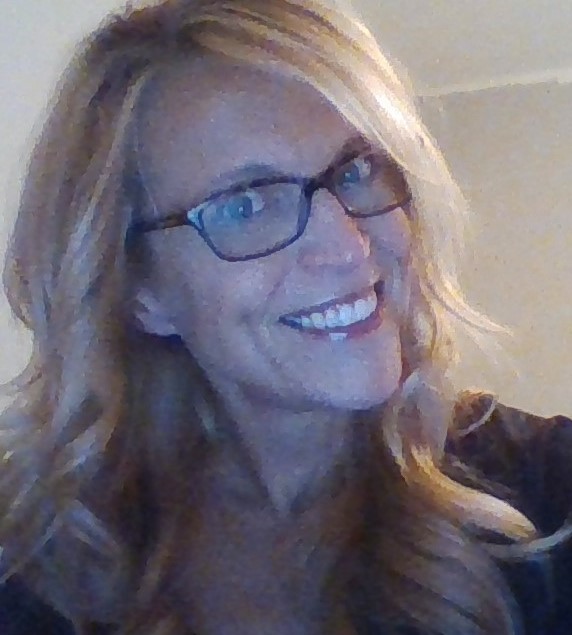 Melinda Haynes, MA, LMFT is a licensed marriage and family therapist, Director and Clinical Supervisor for Family & Children's Counseling Services, Inc. in Northern California. She began her career in the helping profession as an entry-level support counselor and has been working with families in transition since the 1990s.
During her career, Melinda continued her education and eventually obtained a bachelor's degree in Sociology and a master's degree in Psychology. Melinda has been licensed and owned private practices in Oklahoma and California.
Melinda has been called as an Expert Witness in a custody trial involving supervised visitation services, and is the author of the Supervised Visitation Provider training course. She is looking forward to assisting you in your new career as a Provider of Supervised Visitation Services.
Melinda is licensed in three states: CA 10238 | OK 1153 | NC 2143
Course Curriculum
Section I - The Role of the Provider, Part One
Available in days
days after you enroll
Section II- Role of the Provider, Part Two
Available in days
days after you enroll
Section III- The Josh Powell Case
Available in days
days after you enroll
Frequently Asked Questions
When does the course start and finish?
The course starts when you register and ends in two weeks- or longer, if you choose to go at a slower pace. Chapters / videos are released in a staggered fashion so you can absorb the information and do your practice assignments.
How long do I have access to the course?
The course will be available to you for six months so you can watch and re-watch as you get up and running in your new career.
What if I am unhappy with the course?
If you are unsatisfied with your purchase, contact us in the first 7 days and we will give you a pro-rated refund, according to how much of the course you have accessed. Before deciding to cancel, please contact us so we can try to resolve your concerns.
Intellectual Property / License and Use Agreement
The material herein is intellectual property of Family & Children's Counseling Services, Inc. (FCCS). Use of the material is allowed by persons purchasing the course. The material(s) may not be sold, re-sold. leased or given to another without the express written consent of FCCS Students who purchase the course will receive access to material for download. These documents shall not be copied and/or distributed for any other reason than for engaging in their own Supervised Visitation business.